Hey! This thing is still a Work in Progress. Files, instructions, and other stuff might change!
Decora 4 on/off wall switch with LEDs
by dbemowsk
Mar 25, 2017
Contents
Tags
License
Give a Shout Out
If you print this Thing and display it in public proudly give attribution by printing and displaying this tag.
Print Thing Tag
Summary
This is a remix of the Decora Blank by Corona688. This is also alternate design remix of my other 8 button switch http://www.thingiverse.com/thing:2136094 . The circuit board for this design will also work for the 8 button wall switch design.
This is a design for a decora style 4 button on/off rocker switch with indicator LEDs for each row of buttons. This is a project I have been working on for a MySensors switch controller. Other information as well as the prototpe of this (prior to the 3D printed version) can be seen at:
https://forum.mysensors.org/topic/4317/us-decora-style-wall-switch/
The crossbar brace assembly for this model is used as a pivot for the rocker switches. The pivot is to prevent pressing both the on and the off buttons simultaneously. This is not a required piece for the switch to work, but it will give the switch a better feel.
The switch plate is designed to mount a 3cm x 7cm prototype or other circuit board similar to this: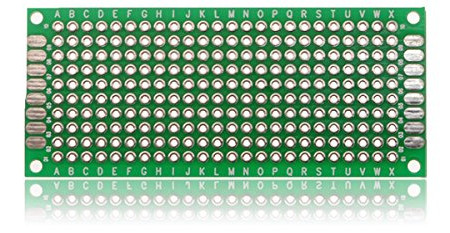 https://console5.com/store/perforated-board-3cm-x-7cm.html
The circuit board is mounted using 2mm x 5mm self tapping screws. The switches used are 6mm x 6mm tactile switches with a switch height of 4.3mm to 5mm:
http://www.robotshop.com/en/sfe-mini-push-button-switch.html?gclid=CJyh2_fEq9ICFQEIaQodYO0LcA
The indicator LED holes are designed to hold any standard 3mm LED, though the hole size can be increased to fit larger LEDs if desired.
See my other switches I posted to get more information on the creation of these switches. You can also check out my blog post on my website that talks about how I created these. https://dan.bemowski.info/2017/06/11/my-start-into-open-source-hardware/
Print Settings
Printer:
Rafts:
Supports:
Infill:
Notes:
I used Cura to print this and used Support Type: Everywhere to prevent stringing.
How I Designed This
The Design
The design of the buttons was based on the X10 XPT line of switches. The X10 line of switches do not have LED indicators like the ones I have added.
Other Electronics
The other electronics for this consist of two boards, the computer board and the power supply board. All 3 of the boards stack on top of each other for a slim design that fits inside a standard single gang wall box.
The main board is the computer board based on a 3.3v arduino pro mini. This also uses an nRF24L01+ radio module and is set up to run the MySensors protocol. The setup is simply a transmitter that talks to the MySensors gateway and through macros or scenes can be set up to control any number of lights or appliances.
The last board in the setup is the power supply board. This is based off of the HLK-PM01 power module which converts 120/240 volts down to 5 volts. For safety a standard 1 amp mini fuse, an MOV, and a thermal cutoff fuse are used in the design.
Conclusion
Though my design of this is for use with my MySensors automation setup, the basic switch design can be set up to work in any number of different configurations. Check my MySensors forum topic on this switch and see the original prototype that I built before I got my 3D printer. https://forum.mysensors.org/topic/4317/us-decora-style-wall-switch
I would LOVE to hear of others using this design and how you used it. Post a comment and let me know what great things you have created with this.
More about me