Hey! This thing is still a Work in Progress. Files, instructions, and other stuff might change!
Decora dual wall switch with LEDs
by dbemowsk
Apr 1, 2017
Contents
Tags
License
Give a Shout Out
If you print this Thing and display it in public proudly give attribution by printing and displaying this tag.
Print Thing Tag
Summary
This is a remix of the Decora Blank by Corona688. This is also alternate design remix of my other 8 button switches http://www.thingiverse.com/thing:2136094 and http://www.thingiverse.com/thing:2202434 .
This is a design for a decora style 2 button on/off rocker switch with indicator LEDs for each row of buttons. The buttons can be modified with indicator text. The indicator text in the default OpenSCAD file is for switches designed to control a lighted ceiling fan. each button has 2 lines of text :
FAN
ON OFF
and
LIGHT
ON OFF
The OpenSCAD file can be modified to create plain ON / OFF buttons, or buttons with 6 or 7 characters of text above the ON / OFF text. I have included .stl files to print all parts at once with FAN and LIGHT switches, just the ON / OFF buttons, or ON / OFF buttons for FAN and LIGHT
This is a variation of a project I have been working on for a MySensors switch controller. Other information as well as the prototype of this (prior to the 3D printed version) can be seen at:
https://forum.mysensors.org/topic/4317/us-decora-style-wall-switch/
The crossbar brace assembly for this model is used as a pivot for the rocker switches. The pivot is to prevent pressing both the on and the off buttons simultaneously. This is not a required piece for the switch to work, but it will give the switch a better feel.
The switch plate is designed to mount a 3cm x 7cm prototype or other circuit board similar to this:
https://console5.com/store/perforated-board-3cm-x-7cm.html
The circuit board is mounted using 2mm x 5mm self tapping screws. The switches used are 6mm x 6mm tactile switches with a switch height of 4.3mm to 5mm:
http://www.robotshop.com/en/sfe-mini-push-button-switch.html?gclid=CJyh2_fEq9ICFQEIaQodYO0LcA
The indicator LED holes are designed to hold any standard 3mm LED, though the hole size can be increased to fit larger LEDs if desired.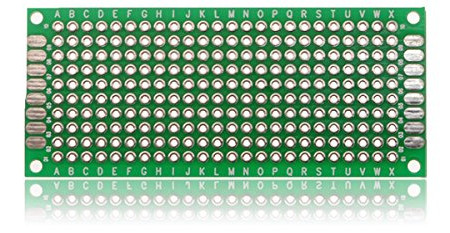 This design will fit a standard 30mm x 70mm prototyping board. This is the same style of proto board that I used when I made the first prototype versions of the switches. For the screws to hold the board to the switch plate I used 2mm x 5mm self tapping screws.
See my other switches I posted to get more information on the creation of these switches. You can also check out my blog post on my website that talks about how I created these. https://dan.bemowski.info/2017/06/11/my-start-into-open-source-hardware/
Print Settings
Printer:
Rafts:
Supports:
Infill:
Notes:
I have found that the buttons look the best when printed on their side vertically. The text seems to come out better, at least for me on my A8 printer. You may have different results with other printers.
How I Designed This
More about me