Docky - Pocket Sized Nintendo Switch Dock V2
by benmarte
Apr 20, 2017
Contents
Tags
License
Give a Shout Out
If you print this Thing and display it in public proudly give attribution by printing and displaying this tag.
Print Thing Tag
Summary
Disclaimer
I am not responsible if you cause any damage to your Nintendo Switch or your dock, so proceed at your own risk. With that out of the way.
What is Docky?
Update 12/23/2018:
Uploaded all new files I made a mistake and uploaded the wrong files in my previous update the only file that had the correct dimensions was the smash bros docky, my apologies.
Update 12/09/2018:
Fixed size tolerance on all ports for an easier installation and better fit
made it a bit taller to relieve stress on the usb-c cable
added usb-c support to the bottom of the lid to relieve stress on the port, no screws required on the port now
Added a few themed dockys: Smash, Triforce, Triforce Bird, Shieka and Nintendo Switch logos in both extruded and carved versions
Update 5/17/2017: Check out Docky review via youtuber and thingiverse user Rawdilz: https://www.youtube.com/watch?v=jU5JQAN596U
Update 5/9/2017: Added Docky no cover versions, Docky with no hinges and no need to use the cover. (This was a user request I'm not sure about stability of this model and I have not printed it, use at your own risk)
Update 5/1/2017: Added power led indicator and front bevel to switch docking area, rebuilt 3D model from scratch with better proportions.
Docky is a pocket size custom 3D model you can print and use as an enclosure for the internal components of your OEM Nintendo Switch Dock.
Dimensions are as follows:
Docky Top:

Width: 67.36mm
Height: 20.70mm
Depth: 105mm

Docky Cover:

Width: 70.76mm
Height: 20.70mm
Depth: 34.78mm

Docky Bottom:

Width: 61.43mm
Height: 10.00mm
Depth: 99.37mm
What did you use to build this model?
I used Blender to make this 3D model.
Files for 3D Printing
Files for 3D printing are in the STL folder:
docky-bottom.stl
docky-cover-beveled.stl (Docky cover is beveled)
docky-cover-embossed.stl (Docky logo is embossed)
docky-cover.stl (No logo)
docky-top-beveled.stl (Nintendo Switch logo beveled)
docky-top-embossed.stl (Nintendo Switch logo embossed)
docky-top.stl (No logo, add your own if you want)
docky-top-no-cover.stl (No logo and no cover hinges, add your own if you want)
docky-top-no-cover-beveled.stl (Nintendo Switch logo beveled and no cover hinges)
docky-top-no-cover-embossed.stl (Nintendo Switch logo embossed and no cover hinges)
Tools and Items Needed
Tri-Point Screwdriver - I recommend this kit
1 Nintendo Switch Dock
9 OEM Nintendo Dock Screws
2 USB-C OEM Nintendo Dock Screws
Docky STL files
Instructions on how to open your Nintendo Switch Dock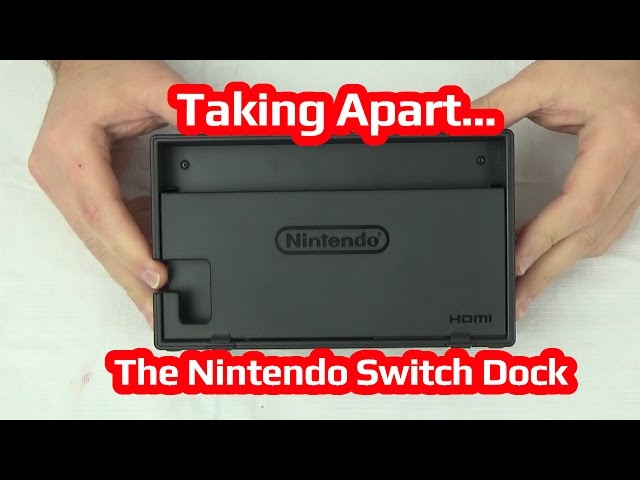 Installing the Motherboard in Docky
You should have all 3 Docky components

Place the motherboard and fold a piece of the ribbon and put it under the usb ports so when you secure the motherboard the pressure keeps the ribbon in place. Secure the motherboard in the bottom Docky component with 5 screws.


Place the led board into the crevice in the bottom component and apply some pressure until it's pretty firm.

Place usb-c port and tighten the 2 screws.

With the bottom component fully assembled insert the side with the HDMI, usb and power ports into the top Docky component first, apply a little pressure.


Proceed to insert the other side with the 2 usb ports by lifting a bit the plastic so you can slide the bottom Docky component into the top component.

Tighten the bottom Docky component with 4 screws.


Install the cover by placing one end into the top Docky component and then sliding the other end until it seats firmly.

Your shiny new pocket size Docky is ready to go.









I want one but I don't have a 3D printer
You can use one of these online services to print your Docky and have it mailed to you.
I want to make changes/improvements to Docky what do I do?
Awesome, I am not a professional 3D artist so I'm sure there's a lot of improvement that can be made to the model so any help is appreciated.
How can I contact you?
Your best bet is twitter: @benmarte
Print Settings
Printer Brand:
Printer:
Rafts:
Supports:
Resolution:
Infill:
Notes:
If the model is small or too large use the measurements I posted in the Dimensions section.
Print with a brim, set support infill to 20% for easy removal.
At this point I am very happy with how this turned out and I don't foresee making any further edits, thanks and I hope you like it.