Printed Tensegrity Toy
by gianteye
Feb 18, 2018
Contents
Tags
License
Give a Shout Out
If you print this Thing and display it in public proudly give attribution by printing and displaying this tag.
Print Thing Tag
Summary
This is an experiment in using flexures to make a tensegrity structure out of printed parts. The zig-zag patterns in the tensile components makes them act like springs, putting load on the compression components and allowing the whole structure to flex.
To make your own, print out the following components:
10x spring_03_short.STL
5x stick_03_long.STL
5x stick_03a.STL
Assemble using 10x McMaster Part #96817A908 thread forming screws (you'll need a T10 torx wrench). The assembly gets a little unwieldy once things are about 90% together and the flexures begin to get pulled into tension. I'd recommend assembling everything laid flat (connecting up all the tensile elements to the compression ones back-to-back as in the photo taken on the plywood backdrop) before connecting the first to the last member and forming a loop.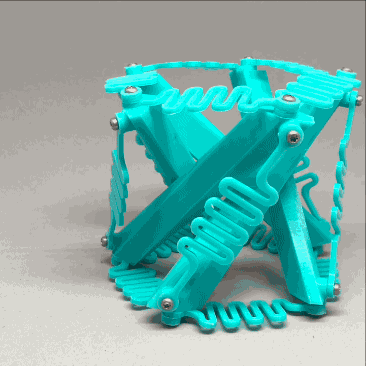 Leaving the screws backed out just a half turn and allowing some play on the connection will help the structure stay springy and prevent tangling as you assemble everything.
I've also made a little post about this design on my site here https://har.ms/blog/printed-tensegrity-toy
Print Settings
Printer Brand:
Printer:
Rafts:
Supports:
Infill:
Notes: