Hey! This thing is still a Work in Progress. Files, instructions, and other stuff might change!
Contents
Tags
License
Give a Shout Out
If you print this Thing and display it in public proudly give attribution by printing and displaying this tag.
Print Thing Tag
Summary
Digital Orrery
This is a project to create a digital orrery, each planet can be addressed and controlled individually.
Parts list
Printing
All the parts will need to be rotated because Fusion 360 likes to output STL files in the wrong orientation. I printed all parts at 0.32mm and they work pretty well, so I don't think a finer resolution is required. However, it would probably be wise to sand anything that slides around, mainly the inside and outside of the shafts.
Print one of ever part, and 3 of the sun pins.
For the collars, drill a hole into them around the middle of the protrusion for whatever wire you are using to hold the planets. The collars should snap firmly onto the shafts, I did not use glue.
Demonstration
Whole device:

Close up:

Video: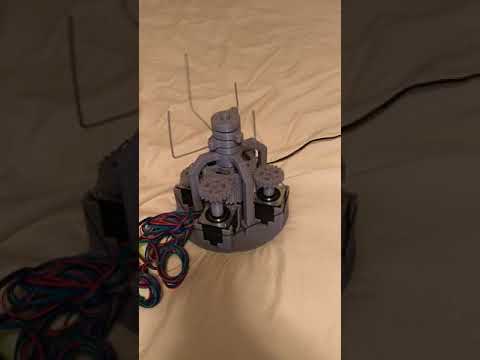 More info found here