Contents
Tags
License
Give a Shout Out
If you print this Thing and display it in public proudly give attribution by printing and displaying this tag.
Print Thing Tag
Summary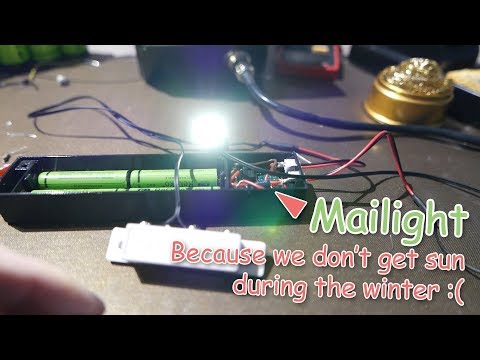 This is a case for a small gadget to put in your mailbox to light it up when you open to check for mail. This is useful since here in Sweden we only get a few hours of sun every day in winter, which means I usually have to check my mail in the dark.
Parts needed:
1x Sparkfun PRT-08808 prototype board
2x 3mm x 12mm screw
4x rechargeable AAA batteries
1x resistor of 1M ohm
1x resistor of 10-22 ohm (You'll want it to be around 60 mA to make sure it doesn't overheat)
1x 100 mF capacitor
1x through-hole 555 timer
Lots of wire
1x NC magnetic switch (some stores get this reversed, you want the one that closes the circuit when not affected by an external magnet). I generally use Standex-Meder Electronics (MK04-1B90C-500W). Don't forget to get a flange if it's sold separately.
Some battery contacts such as Keystone Electronics AA ones. The AAA ones will probably work as well. They're pretty flexible.
1x Computer M3 chassis screw.
Super glue.
2x JST female connectors
2x JST male contacts
1x 1W Power LED
Heat shrink or isolating tape
Tools needed:
A 3d printer (hur dur)
Screwdriver
Soldering equipment
Something to strip/cut wires with.
Print Settings
Printer Brand:
Printer:
Rafts:
Supports:
Resolution:
Infill:
Filament:
Add:North PETG
Black
Notes:
Printed with supports only on plate, and 10 degrees. Basically you only want supports on the big JST holes on the main box.
The big box will likely work with PLA. But the LED box relies on the PETG flexibility.