Apex Legends Pack - Loot Box - Detachable
by Jonnyo85
Feb 14, 2019
Contents
Tags
License
Give a Shout Out
If you print this Thing and display it in public proudly give attribution by printing and displaying this tag.
Print Thing Tag
Summary
Apex Legends Pack Loot Box
Imagine if everyone who downloaded gave a tip?
Not perfect but taken reference from in game footage and images.
All Should work fine but let me know if any issues.
quick octolapse @ https://youtu.be/s9Lc02jFI9E
UPDATE 20/03/19
I have now simplified the files as V4, as it has got a bit over run.
all legs now have to be printed on there own.
If you need any old files then please contact me as I have all the old ones. All legs will work with V4, and a newer more scaled leg has been added.


UPDATE 18/03/19
It seems people are still trying to sell this off as there own creation! as is tha case with "QuickStuff3D" on etsy..
UPDATE 4: 02/2/19
Well after most recent envents. ive got more legs! only printed one of them, but should be fine!. i think thats it job done. unless anyone else has any suggestions?
UPDATE 3: 25/2/19
So we have legs! Finally got around to making them, Though a bit out of scale. they are detatchable with the new body(APEX_PACK_Bottom_For_Detachable Legs_v3) Also have uploaded other bodies, without legs if you wish to add legs from else where. Not Printed So be warned, best orientation i think to print is either on its side or on the lower leg.

UPDATE 2: 16/2/19
Finished bottom with folded Legs
Added more details to top
Made body detachable from bottom(1mm gap around peg)
Made basic folded legs
Added all models to files

UPDATE 1: 16/2/19
Made the plates detachable(1mm gap around pegs)
Added more detail and corrected the mid cross plates

Personally I don't think angels are quite right and odd details missing here and there. Let me know if you think something needs adding / changing.
This is based of an ingame item from Apex Legends created as "Fan Art", No infringment intended
If you print, please post a make and credit where applicable
---
---
Want to see cool things like this being printed LIVE 24/7?
Check out: Zombies Maker Space on Twitch!
---
Please Note the License, anyone found not to be adhering to it with out permission may have action taken against them.
---
(if you want to make and sell this then please contact me.)
Print Settings
Printer Brand:
Printer:
Resolution:
Infill:
Notes:
So as there is such a mix of files they all need diffrent things.
I have suggested what i think so use only as a guide.
Its said that 50% scale is best but this is up to you.
APEX_PACK_v(X).stl
Suggest: supports and infill:
APEX_PACK_Top_v(X).stl
Suggest: No Supports and infill (can be printed without)
APEX_PACK_Body_v(X).stl
Suggest: No Supports and infill (can be printed without)
APEX_PACK_Face_v(X).stl
Suggest: No Supports with infill 10% >
Orientation: Flat down face up.
APEX_PACK_Bottom(X).stl
Suggest: Supports and infill 10% >
LegPose(X).stl
Suggest: Supports and infill 10%>
Orientation: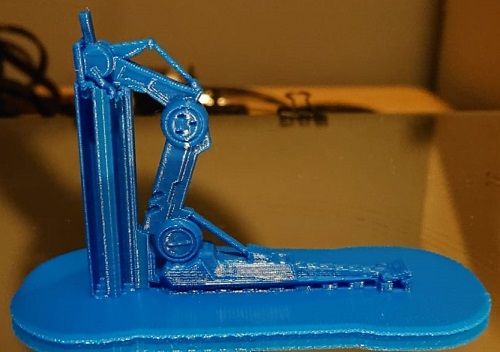 Or flat on its side.
Octolapse on body