Customizable Bender (Futurama) Bottle Opener
by brandroid64
Mar 26, 2019
Contents
Tags
License
Give a Shout Out
If you print this Thing and display it in public proudly give attribution by printing and displaying this tag.
Print Thing Tag
Summary
Bender Bending Rodriguez! Designed for @artofgeekchallenge on Instagram.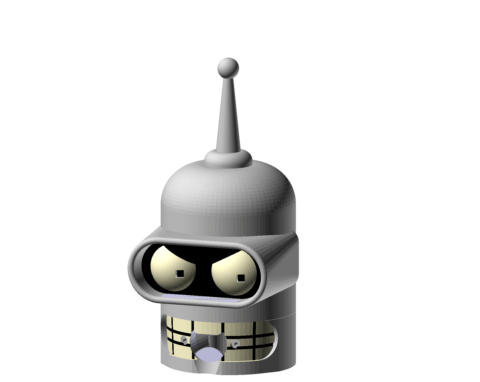 Goals with this project:
Make a large model from separate parts, easy to assemble, with as few supports as possible.
Make it easy to paint different colors.
Since Bender drinks beer, let's make him a bottle opener.
For #1, I chose to make Bender in 3 vertical sections:
Bottom/Mouth
Bottle Opener attaches to this section.
Head/Face
Goggles slide over the "eyebrows" and eyeballs, and "lock" into place on the face.
Top/Antenna
The top can be printed solid (then glued to the head), supported, or spliced (then glued to each other). My favorite method is the last.
The sections are hollow, and attach to each other using 20mm+ M3 screws/square nuts. Get some if you don't have any, they're great!
There's a few different head/top versions. Head7B goes with Top10A/B (and connects to Head_Bottom).
I spent the most time trying to make the bottle opener useful yet aesthetic. It's not the best, since you should probably lean Bender forward to avoid spilling your beer, but it gets the job done!
I also thought it would be fun to have moving eyeballs, so they can move. I was thinking about giving Bender an Arduino brain to move the eyeballs, detect when he's being used, and make sounds from that. Haven't gotten that far yet.
Post-Printing
Prime
If desired, apply medium to remove layer lines and prime for painting. I found something called "Milliput" (which is an epoxy putty) at Hobby Lobby, and fell in love. It's moldable for quite a long time (especially compared to something like Bondo), you can use water to fine tune molding, dries and hardens super hard (can be used to temporarily repair plumbing, apparently!), then it's sandable/machinable just like wood!.
Paint
I used acrylic paint (with Gesso primer) and it turned out pretty good. I'm sure spray paint would work fine.