Airtripper's Bowden Extruder V3
by Airtripper
Dec 13, 2012
Contents
Tags
Remixed From
License
Give a Shout Out
If you print this Thing and display it in public proudly give attribution by printing and displaying this tag.
Print Thing Tag
Summary
Airtripper Bowden Extruder BSP Edition
http://www.thingiverse.com/thing:126778
Extruder Filament Drive Gear Review & Benchmark
http://airtripper.com/1676/3d-printer-extruder-filament-drive-gear-review-benchmark/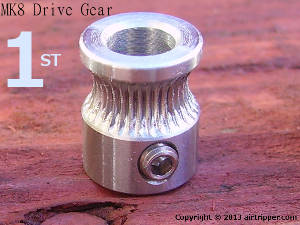 Welcome to the Airtripper's Direct Drive Bowden Extruder V3.
A few adjustments have been made to the design to make the extruder easier to set-up and use. Also, tweaks have been made to get a much cleaner 3D Print.
More details are on the blog:
http://airtripper.com/1071/airtrippers-bowden-extruder-v3-updated-design/
Instructions
Designed to fit NEMA 17 Stepper Motors, and can accept the Raptor Universal Filament Drive Gear and other similar size drive gears. For 1.75mm filament only.
STL File Content Details
airtripper-extruder-v3.stl Main body only
airtripper-extruder-v3_e_a.stl Extruder and axle
airtripper-extruder-v3_i_s.stl Idler and Strut
airtripper-extruder-v3-all.stl All parts included
airtripper-extruder-v3-axle.stl Axle only
airtripper-extruder-v3-idler.stl Idler only
airtripper-extruder-v3-idler2.stl idler with flange only
airtripper-extruder-v3-strut.stl strut only
Full parts list and assembly instructions are here:
http://airtripper.com/1071/airtrippers-bowden-extruder-v3-updated-design/