Contents
Tags
Remixed From
License
Give a Shout Out
If you print this Thing and display it in public proudly give attribution by printing and displaying this tag.
Print Thing Tag
Summary
d.i.d. - deep ink diver
d.i.d. is a 3d printed, open-source, scalable, pen plotter. The aim of the project is to make a cheap, easy to build, printer made specifically for vector-based graphics.
We are thinking about providing a kit version for everyone who isn't able to source the materials or just wants to help us pay our studies :P
We would love if you could please fill this form we made
From a precise pen made for technical drawing, to big markers used for graffiti; the way printing is perceived on paper is not bound anymore to the restrictions of a cartridge. The material on which it is printed now also has a role by himself: the roughness of the paper is not hidden by the inkjet but emphasized by the pen that physically touches the paper and travels on it.
The main difference between printing with a normal printer and d.i.d. is that the machine is able to follow vectors as paths in the same way that a CNC router does. This allows to create graphics that are more fluid and overhaul more defined and vivid on paper.
​
The materials and electronics used for the plotter are all standard and easy to source. The main frame is made of aluminum extrusion and 3d printed connections. The motors are all standard nema 17 stepper-motors and a single sg-90 servo motor. Everything is driven by a cheap Arduino Uno control board that handles the transition from g-code to movement. Furthermore, the software used to create g-code, Inkscape, is opensource as well.
Here are a few videos of it in action
https://youtu.be/RkO-iulIUkc
https://youtu.be/divlbFCbLq4
Many thanks to the user JuanGg whose pen plotter project was a great inspiration.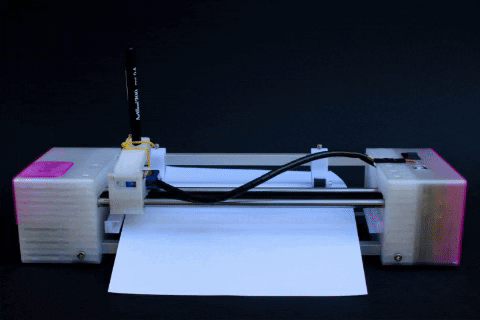 Print Settings
Printer Brand:
Printer:
Rafts:
Supports:
Resolution:
Infill:
Filament:
Generic PETG
Notes:
The files have been modeled with tight tolerances so make sure to check the distance from the bed. if the pieces won't fit either drill the 8mm holes with a 8mm drill bit.
If you find yourself not to be able to print due to the tolerances please let us know on the comments!
Post-Printing
Build of Materials
This is a list of the materials we used to create the plotter:
Dimensions are for the A4 version
2 Nema 17 Stepper Motors
1 SG90 Servo Motor
GT2 Belts
1 Toothless Idler
1 Toothed Idler
Various M3 and M4 Screws and Bolts
M3 Square Nuts (Prusa like)
Adhesive Sandpaper - you can make it yourself with double sided tape if needed

1 Rubber Band

1 Arduino Uno
1 Arduino Uno CNC Shield
1 Power Switch
1 Power Adapter - 12V 3A Suggested

2 A4988 Stepper Motor Drivers

2 Aluminium Square Extrusions 10mm x 10mm - 295mm
1 Aluminium Square Extrusions 10mm x 10mm - 300mm
1 Aluminium Square Extrusions 10mm x 10mm - 280mm - Needs to be Precise
2 Steel Rods 8mm Diameter - 280mm
1 Aluminium Tube 12mm Diameter 1mm Thickness - 255mm - Needs to be Precise
Building Instructions Coming Soon!
Software
Firmware
We chose to use Grbl. As it is easy to configure and powerful enough for our need.
We suggest using a modified version made by robottini. This version adds support for a servo and is pretty much plug and play.
Here you can see our configuration. Feel free to copy, but change it a little :P
Print a few lines in x and y direction in order to calibrate the steps\mm
Useful Programs
For generating G-Code from vector files we used this awesome plugin from Jtech Photonics.
Be aware to set the laser power according to how much you want your servo to be lifted
To create G-Code from bitmaps we suggest using this wonderfully working plugin from 305engineering
Be aware to set the laser power according to how much you want your servo to be lifted
Check out our results! :P
Design Process
The design process was quite long and frustrating but the end results is definitely worth it in our opinion!
We had to came through 6 prototypes and various iterations in order to first resolve technical issues and then work on the details.
We modeled everything on Rhinoceros 5, from scratch. If anyone is interested in the 3dm file let us know so we can share it!
Even tough our first step now is completed we would love to hear your thoughts, suggestion and improvements on the comment section!