Minecraft Pumpkin and Jack-o-lantern improved
by scottrlindsey
Oct 10, 2014
Contents
Tags
Remixed From
License
Give a Shout Out
If you print this Thing and display it in public proudly give attribution by printing and displaying this tag.
Print Thing Tag
Summary
September 26, 2018 update, my big update is complete!
--> MINI NO-SUPPORT SNAP TOGETHER VERSION IS HERE!!! <--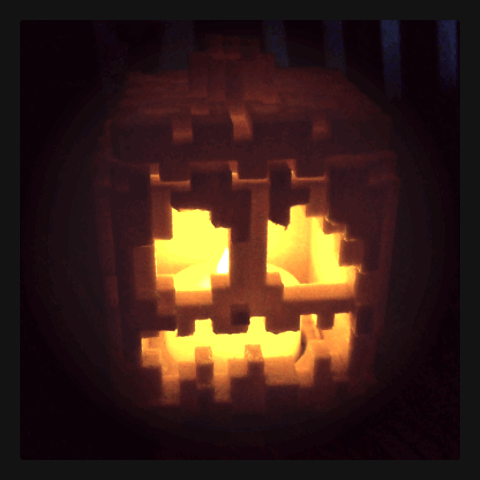 September 15, 2018 UPDATE -- A new and improved version of this thing is now available!
--> Minecraft Jack-o-lantern reduced support version <--
I thought Ansarum's awesome Minecraft jack o'lantern was really cool, but it needed some bug fixes and an easy way to illuminate it.
So, I' have scaled it up and adjusted the lid so that it fits. The version with a hole in the bottom is designed to fit these flickering led tea lights from Amazon.
Enjoy!
Instructions
Print with support!
There are two versions. The first is flat bottomed and works like a real jack o'lantern -- just drop in a LED tea light through the top.
The design with the hole through is more ambitious. The LED light is meant to friction fit in the hole, but it doesn't really work very well.
Perhaps in an update I'll be able to reliably hold inserted tea lights in place, but as it stands the tea light will either fall out unless wrapped in tape or else the hole will print too small and you'll need to trim it down.